Handling and spreading covering materials
A pneumatic blower can be used to handle different kinds of materials. Typical applications may be spreading covering materials when constructing green areas or other infra construction as earth embankments to control traffic noise. In agriculture drying materials have been handled traditionally pneumatically.
Blower sales and services
Lämpösi Oy's first woodchip blower has been installed on a standard interchangeable woodchip container for testing and demonstration purposes. The system is the first one in Finland. Several successful deliveries with different kind of wood fuels were reported, e.g woodchips with 30 – 80 mm sieves. During 2019 – 2020 will be tested a container manufactured of composite material. The container is manufactured by Kome Oy.
We offer the blowing system either in co-operation with our partner Tervon Puutarha, or the system may be rented for testing purposes (in Finland). The blowing service may include blowing the customer's materialsor we can supply the material as well. The volume of the container is about 42 m3. The roof of the container can be opened manually. Please note that the hydraulic system of the vehicle should meet some requirements to run the blower in an optimal way.
Woodchips can be blown as far as 20 – 40 meters from the vehicle depending on the material. In France straw has been blown even 80 meters to cover and protect wine culture areas.
FACT BOX
Mobile 400 and 500 blowers
The smallest blowers are JYJ400 and JYJ500 models. JYJ500 model will be manufactured both as a hydraulic blower wall type and as a mobile version driven by electric motor.
The mobile unit is a compact tool for small applications. Mobile unit is easy to operate either in blowing or in suction mode. It can be utilized besides in blowing woodchips also other materials in several business lines as green area construction and agriculture. Note: only a few materials have been tested so far.
Availability of the blower
The manufacturing of the blower has been started in Finland late 2019. More information and inquiries: Lämpösi Oy.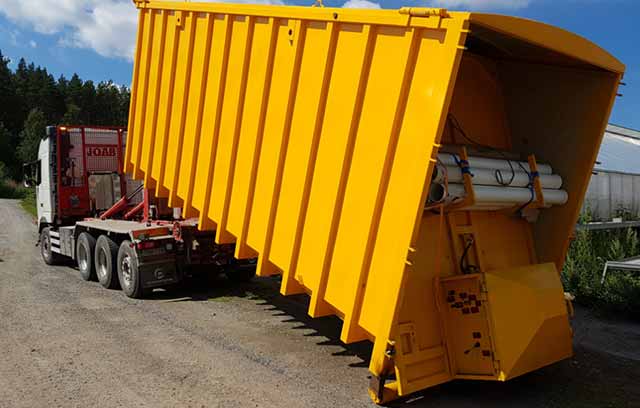 Gardens
Spreading decorative bark, protecting plants with straw or bark mulch covering materials, weed control
Landscaping
Blowing covering materials on small or large sites, e.g. plant protection or weed destruction on road sites or gardens
Outdoor areas, dog parks etc.
Spreading saw dust or bark on hiking tracks, dog parks etc.
Skiing centers
Covering snow storages with saw dust
Agriculture
Pneumatic handling of drying materials, feeds, corn, fertilizers etc.
Horse stables
Handling drying materials
Industry, house construction
Pneumatic handling of insulation materials, pellets or granules etc.